I want to introduce to everyone a clothing brand from Taiwan called Delite. I have become friends with a couple of the co-founders and they were so gracious to send me a shirt! The shirts from Delite are absolutely amazing and I think you all would agree with me. The shirt Delite sent me says "Captain Taiwan" on it which fits me so well haha. (see picture below)
The style of clothing that Delite is would be considered "urban clothing" that is both casual and comfy. All of the designs are truly unique and very fun. My Captain Taiwan shirt is of course poking fun at Captain America, while their "Singleman" shirt is poking fun at "Superman". I highly encourage you to support Delite by purchasing a shirt if you are living in Taiwan.
If you don't live in Taiwan but do speak Chinese you can order from wherever you are. The site to purchase the shirts is not yet in English unfortunately. Below are the essentials links for you to learn more about Delite and to purchase some of their awesome clothing. Please do not forget to like their Facebook fan page: http://www.facebook.com/DELITE.URBAN.CLOTHING
Delite's Official Website: http://www.delite.com.tw/
Delite's Yahoo Online Store: http://tw.user.bid.yahoo.com/tw/booth/Y1466928216
Delite's Flickr Account with Designs: http://www.flickr.com/photos/delite_clothing/sets/
So please, help support Taiwan made brands and spread the word about Delite ! Thank you friends!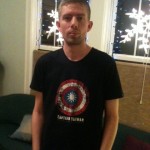 Click Image to Make bigger !